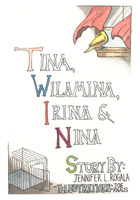 Tina, Wilamina, Irina, and Nina
Tina quarrels to get what she wants.
Wilamina quibbles to get her own way.
Irina whimpers so her opinion is heard.
Nina whines to at least have a say.
Something needs to change to make these sisters cooperate. But what?

7X10. 34 pages. $11.95 ISBN 978-1-60264-519-6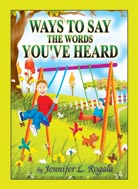 Ways to Say the Words You've Heard
What do you call your friends? Are they your pals, your chums, your buddies or your mates? How do you say you're tired? Are you pooped, bushed, beat or sleepy? There are many ways to say the same thing.
Ways to Say the Words You've Heard follows a young child through his daily routine. It uses simple verses and rhyming lists to introduce synonyms, silly slang, a little foreign language and other words having nearly the same meaning as another.

8.5X8.5. 28 pages. $11.95 ISBN 1-58939-864-5
When My Nose Runs, Where Does It Go?
Can a fence really run around a house?
Can the face of a clock blush?
Can you eat with a fork in the road?
The same word can be used to describe different things. This book uses silly questions to show how one word can be used in different ways. Most of the questions refer to parts of the human body or to actions that the human body can perform.

8.5X8.5. 34pp. $11.95 ISBN 1-58939-866-1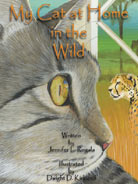 My Cat at Home in the Wild
Have you ever wondered why cats act the way they do? Why do they run around the house at night and sleep most of the day? Why do they hide in boxes and paper bags? Why do they like high places? This book follows a cat named Kingsley through her day and compares her actions to those of her big cousins who live in the forests and jungles of the world. Cat lovers will recognize the behavior in their own cats. Children who never had a cat in the family will discover a new appreciation for them. And everyone will learn some fun facts about the big cats that live in the wild.
8.25 X 11. 32pp. $12.95 ISBN 978-1-58939-962-4

About the Author
Jennifer Rogala has worked in the area of healthcare technology for 15 years. Most of her publications were on the topic of how medical technology can improve patient safety. It wasn't until she became a mother that she started writing stories for children. From their infancy her twin daughters loved books. Seeing the joy books gave to her children inspired Jennifer to attempt to create this joy herself and share it with others. Jennifer lives outside of Boston with her husband, twin daughters, and two cats. Visit Jennifer on-line at www.JenniferRogala.com



About the Illustrator of "When My Nose Runs, Where Does It Go?"
Jacob Nicholas has been adding new illustration styles to his portfolio with amazing regularity and now offers over 30 different styles, picked up over his 15 long years of illustrating. Jacob's illustrations have memorable and lovable characters, true backgrounds, interesting props and details, and a touch of humor that children love. To view all his styles and his attention-grabbing illustrations, visit Jacob on-line at www.sonaandjacob.com



About the Illustrator of "My Cat at Home in the Wild"
Born in Dallas, Texas, Dwight Kirkland has been an artist for as long as he can remember. He has had a lifelong passion for the arts and enjoys all types of painting and drawing. He specializes in a unique, dreamlike, photo-realistic style of painting using the airbrush and paintbrush. He now resides in Pennsylvania with his wife, two children and four labs.